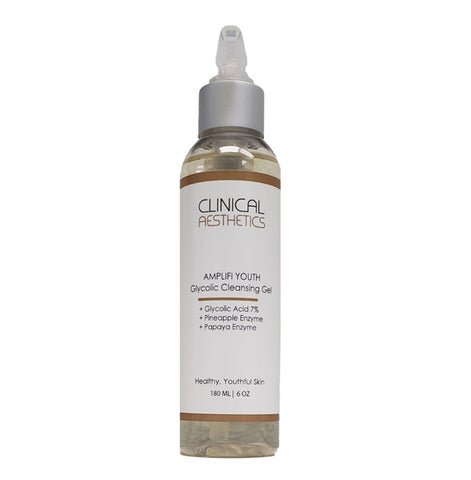 Clinical Aesthetics: Amplifi Youth Glycolic Cleanser
Size: 6 oz
Glycolic Cleansing Gel is a light-foaming face wash formulated with 7% Glycolic Acid and natural Papaya and Pineapple Enzymes. This combination offers gentle exfoliation to help dissolve and wash away dull, dry, flaky skin, visibly improving radiance and clarity. Glycolic Acid is known for it's anti-aging benefits. Regular use as a first step in your anti-aging routine improves the appearance of skin's texture revealing soft, healthy, glowing skin.    
Directions for use: Cleanse twice daily. Using a generous amount, apply with moist hands, gently massage in a circular motion for one minute, rinse thoroughly with warm water. Cleanser needs to stay on skin for at least 30 seconds to receive the benefits of the Glycolic. 
Ingredients: Aloe Vera Gel, Decyl Polyglucose, Glycolic Acid-7%, Salicylic Acid, Cococomidopropyl, Betaine, Dimethicone, Yeast Extract (Vitamin B), Sodium PCA, Glycerin, SD Alcohol 40, Lactic Acid, Watercress Extract, Papain, Bromelain, Lavender Extract, Soap Wort Extract, Camphor, Sodium Hydroxide, Guar Gum, Phenoxyethanol, Sodium Benzoate.