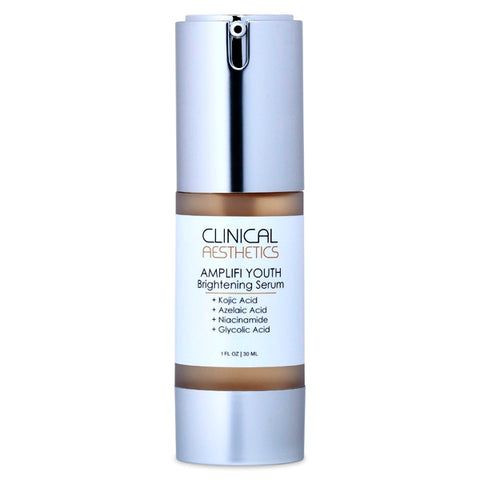 Clinical Aesthetics: Amplifi Youth Brightening Serum
Size: 1 oz
Formulated with 9 powerful ingredients that work together synergistically to address pigmentation issues and brighten and lighten skin. 
Ferulic Acid, an antioxidant that boosts the effect of other ingredients and protects against environmental aggressors.
Azelaic Acid, a Tyrosinaise inhibitor, and also an effective anti-acne agent.
Kojic Acid, helps lighten hyperpigmentation and helps balance skin tone.
Salicylic Acid exfoliates and helps to clean pores and prevent breakouts.
Niacinamide diminishes existing discoloration and helps keep new discoloration from appearing. 
Glycolic Acid exfoliates dead skin cells to help soften skin and even skin tone.
Arbutin, a natural ingredient that helps brighten uneven skin tone. 
Licorice Root Extract is a very effective skin lightening and depigmenting ingredient.
Lycopene helps to prevent skin texture changes, fine lines and wrinkles.
Achieve radiant skin with this unique brightening serum.

Featured ingredients: Azelaic Acid, Salicylic Acid, Ferulic Acid, Kojic Acid, Niacinamide, Glycolic Acid, Arbutin, Glycyrrhiza Glabra (Licorice) Root Extract, Lycopene.