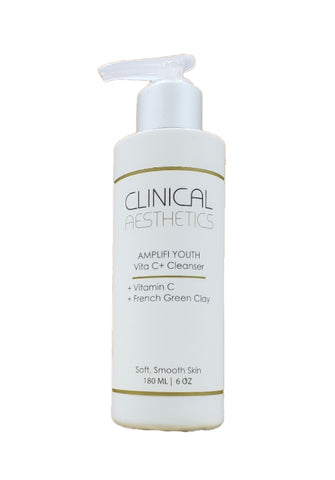 Clinical Aesthetics: Amplifi Youth Vita C+ Cleanser
Size: 6 oz
Vita C+ Cleanser is packed with earthy goodness to gently deep clean and condition the skin leaving it smooth, taut, happy, and healthy. Antioxidant-rich 
Vitamin C  helps maturing skin look fresh and youthful.  Purifying French Green Clay is rich in minerals to help heal and moisturize the skin. It offers the same benefits as exfoliating but is gentle enough to use every day. Regularly using French Green Clay as a cleansing agent can play a major role in keeping your post-facial glow. 
Directions for use: Shake well before each use. Cleanse face and neck twice daily. Using a generous amount, apply with moist hands, gently massage in a circular motion for one minute, and rinse thoroughly with warm water. Suitable for all skin types. 
Ingredients: Water, Cocamidopropyl Betaine, Sodium Coco-Glucoside Tartrate, Disodium Coco-Glucoside Citrate, Phenoxyethanol, Green Clay, Vitamin C Ester, Xanthan Gum, Tetrasodium Glutamate Diacetate.