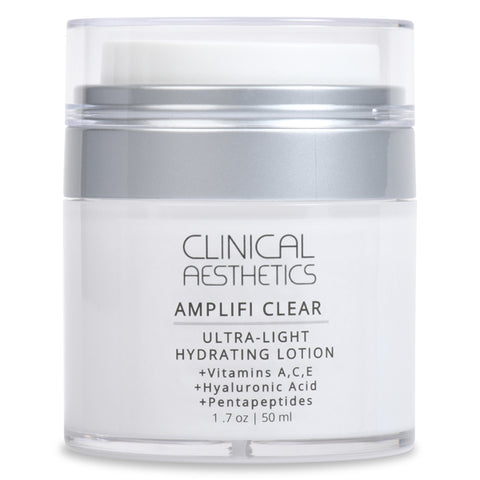 Clinical Aesthetics: Ultra-Light Hydrating Lotion
Vitamins A,C,E + Hyaluronic  Acid + Pentapeptides
Size 1.7 oz
This lotion is lightweight and anti-aging.
Hyaluronic Acid is a hydrator that is recommended for normal, oily, blemished, and problem skin. This lotion helps improve oxygenation and helps to detoxify and hydrate the skin, all while controlling oil overproduction.  

Seaweed Extracts (Fucus, Laminaria Digitata, Spirulina, and Lithothamnion) help reduce sebaceous secretion and regulate the pH of the skin. Seaweed contains a large variety of micronutrients. These micronutrients form a bond with the skin proteins, allowing them to help refine pores, reduce oiliness, soothe irritation, fight blemishes, soften skin, and improve texture.  
Pentapeptides help stimulate Collagen and Elastin production to reduce the appearance of fine lines and wrinkles and slow the formation of new ones.