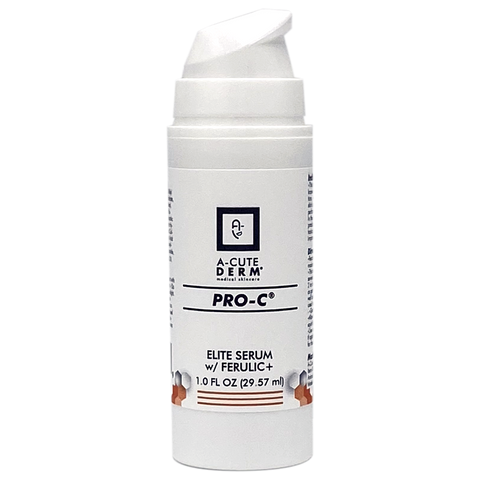 A-Cute Derm: Pro-C Elite Serum with Ferulic Acid & Vitamins A, C & E
 Size: 1 oz

A-Cute Derm's Pro-C Elite Serum contains a potent 20% concentration of essential Vitamin C that will improve skin tone, softness, and color within only days!
The Pro-C Elite Serum contains antioxidants to minimize and repair sun-damaged skin.  It protects the skin from environmental stress and has been scientifically proven to fight inflammation.
A-Cute Derm's Pro-C Elite Serum will also improve the tone and softness of the skin's appearance while enhancing the performance of vitamins and antioxidants in the skin, especially vitamin C. A powerful ingredient cocktail with vitamin A, C & E, helps combat aging.
Very little of this product is needed to see results and it can be used on the face, around the eyes, neck, décolleté, and lip line areas.
This product also works well on the inflammation caused by acne. A-Cute Derm recommends this serum be used once daily, but can be used twice daily.
Excellent for all skin types.