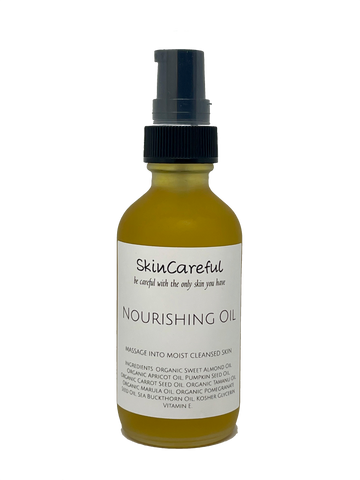 SkinCareful: Nourishing Oil
Size: 2 oz
Helps fight acne, rashes, and dry skin.  Anti-aging & healing.
It is time to change the way we take care of our skin.  Our health and skin depend on it.  The skincare community is moving towards products that are made from natural ingredients that feed the skin and promote its well-being.  Just like you can't fuel your body on chemical junk food, you can't care for your skin with chemical junk.  Our skin is the largest organ in our body and soaks up everything we put on it. 
Who is this oil for?  You. This powerhouse oil is for all skin types.  Don't let the fact that it is an oil scare you.  This is a combination of very special oils that have amazing properties and will leave your skin plump, moisturized, and covered with anti-aging vitamins.  These oils are safe for acne-prone skin and will even help reduce breakouts.
Hydration: This oil blend contains Omegas 3, 6, 7, 9, and even 5!  Why is that important? Because Omega's serve as super hydrating and essential building blocks for the skin.  They create a smoother, more even, younger-looking, and healthier complexion, regardless of skin type.  Omegas increase hydration and help to deliver antioxidants to visibly reduce fine lines and wrinkles. They also soothe irritated skin and speed healing.  
Antioxidants & Vitamins: This blend is naturally loaded with nutrients to nourish your skin.  It contains Vitamin A, B1, B2, C, E, K, Zinc, Selenium, and Magnesium. 
Vitamin A 

increases the rate of cell turnover. This can improve the texture and tone of skin, exfoliate dull and lifeless skin, fight acne, and slow the signs of aging.

Vitamin B1 is good for red, irritated, acne-prone, or dry skin

. It also improves the appearance of fine lines and wrinkles.

Vitamin B2 can help improve skin tone, make skin more radiant, and balance natural oils, making these great vitamins for dry skin or acne.
Vitamin C improves skin elasticity, helping the skin look younger and brighter. Vitamin C serums also stimulate collagen production, fighting the damaging effects of the sun.
Vitamin E is helpful with wound healing, especially in combination with vitamin C and Zinc. It also helps treat acne and pressure sores. 
Vitamin K protects the collagen in the body, which reduces fine lines and wrinkles.  It reduces dark circles under the eyes.  It is a super healer that soothes inflammation, expedites wound healing, and heals bruises.
Zinc is helpful in healing acne and wounds.  It helps regenerate skin while providing antiseptic and astringent properties.  Zinc reduces pores. It enhances collagen and evens out skin tone.  Zinc is also effective for reducing skin pigmentation.
Selenium is a serious inflammation and free radical fighter which also helps slow aging and heal acne.
Magnesium causes a significant reduction in fine lines and wrinkles. It also enhances the natural hydration of your skin and encourages the production of collagen.
Need more?  This oil is also naturally anti-inflammatory, anti-viral, antibacterial, and antiseptic.  It treats rashes, acne, and dryness while helping with skin rejuvenation and speeding healing.
How to use it:  Our favorite way is to massage 3-4 drops of this oil into wet skin after cleansing or bathing.  It will help to lock the moisture into the skin. This Nourishing Oil can also be used as a cleanser in the Oil Cleansing Method or Double Cleansing Method.  This product can be used on the face and the body, so don't forget to give some love to those elbows and knees.  They will thank you for it.
Ingredients: Organic Sweet Almond Oil, Organic Apricot Oil, Pumpkin Seed Oil, Organic Carrot Seed Oil, Organic Tamanu Oil, Organic Marula Oil, Organic Pomegranate Seed Oil, Sea Buckthorn Oil, Kosher Glycerin, Vitamin E.