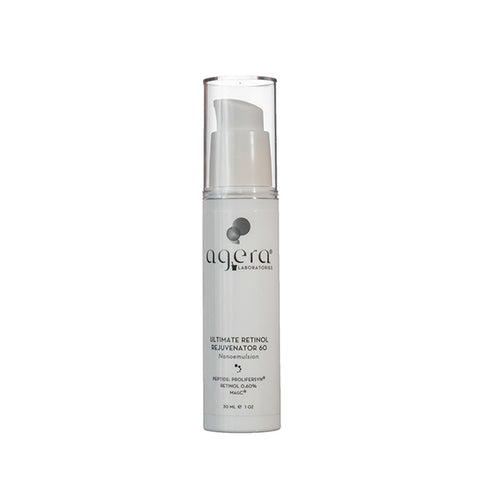 Agera: Ultimate Retinol Rejuvenator 60
Agera's Ultimate Retinol Rejuvenator 60 is a lightweight daily treatment that provides a high dose of Vitamin A via a lipid core nanosomal delivery.  It provides a maximum benefit in skin repair and renewal. Its growth factor peptide provides anti-aging benefits and is effective in reducing fine lines and wrinkles. Studies show that Vitamin A plumps the skin and increases collagen production, decreasing fine lines and wrinkles and improving skin's overall texture.
KEY INGREDIENTS: Retinol, Retinyl Palmitate, MagC, Prolifersyn
INSTRUCTIONS FOR USE: Apply daily in the evening 3 times a week, gradually increase use to nightly.
SIZE: 1 OZ