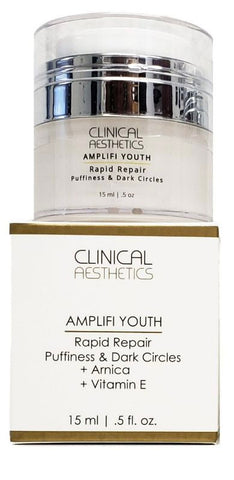 Clinical Aesthetics: Amplifi Rapid Eye Repair
Size: .5 oz

This eye treatment is excellent for lightening dark circles & reducing puffiness.
Rapid Repair helps diminish the appearance of under-eye puffiness and dark circles and soften imperfections such as fine lines and wrinkles. It contains high levels of Arnica Montana which helps relieve congestion and puffiness and activates blood flow to the skin.  Emu Oil and Vitamin E Oil combined are calming, soothing, and moisturizing.

**Testimonial** Esthetician and medical spa owner Michele from PA has been testing this product for Amplifi for 8 weeks with 10 of her clients. She said, "Everyone saw less puffiness and lighter circles and brighter, clearer skin around their eyes." She also said, "it doesn't happen overnight but after at least 30 days of continuous use." Lastly and most exciting to me because we in the business test tons of products....she said "I went on vacation for 10 days and didn't take it with me, I noticed my circles were starting to get darker again from not using it. All 10 test clients said they will purchase it, 100% client approved!"
Featured ingredients: Arnica Montana Flower Extract, Emu Oil, Vitamin E, Green Tea Leaf Extract.
-Arnica is known to calm, soothe and activate blood flow.
-Emu Oil is packed with Omega's 3 & 6 and is a well-known healing agent and excellent hydrator.
-Vitamin E is a powerful antioxidant.